For years, sustainable textile has been focused on sustainability vaguely or conceptually. But the world is demanding the need for a life cycle reimaging the way we source, produce, and distribute the products to consumers with little environmental footprint and optimal social impact to reduce social deadweight.
Ultimately material is the focal point in the future in transforming our emission and environmental footprint:
Materials contribute more than 65% of the cost of any textile product, and the choice of materials changes the dynamics of both the environmental footprint and its social impact. Also, the rise of recycling and regenerative material continues to dominate forums. People are currently focusing on jutton, a combination of jute and cotton, which has been reliable in using course products such as jugs, mats, and kitchen products in textiles. In the future, jutton will be used extensively with other cellulose products. More sustainable crops such as linen and hemp, alongside many regenerative fibers from biowaste such as orange and banana pills and such regenerative materials, can simultaneously clean the landfills and ocean and reduce wastage outflow. Plastic packaging is now regenerated into chips for filament production, and polyester yarns can help reduce overall plastic pollution. Still, shortly, regenerative yarn from synthetic clothes can be possible. Some certifications can help you understand if the raw materials are from sustainable sources, such as Global Recycle System Global Organic Textile Standard. Recycled 100, Recycled Blended, and more certifications can help verify and promote your intentions.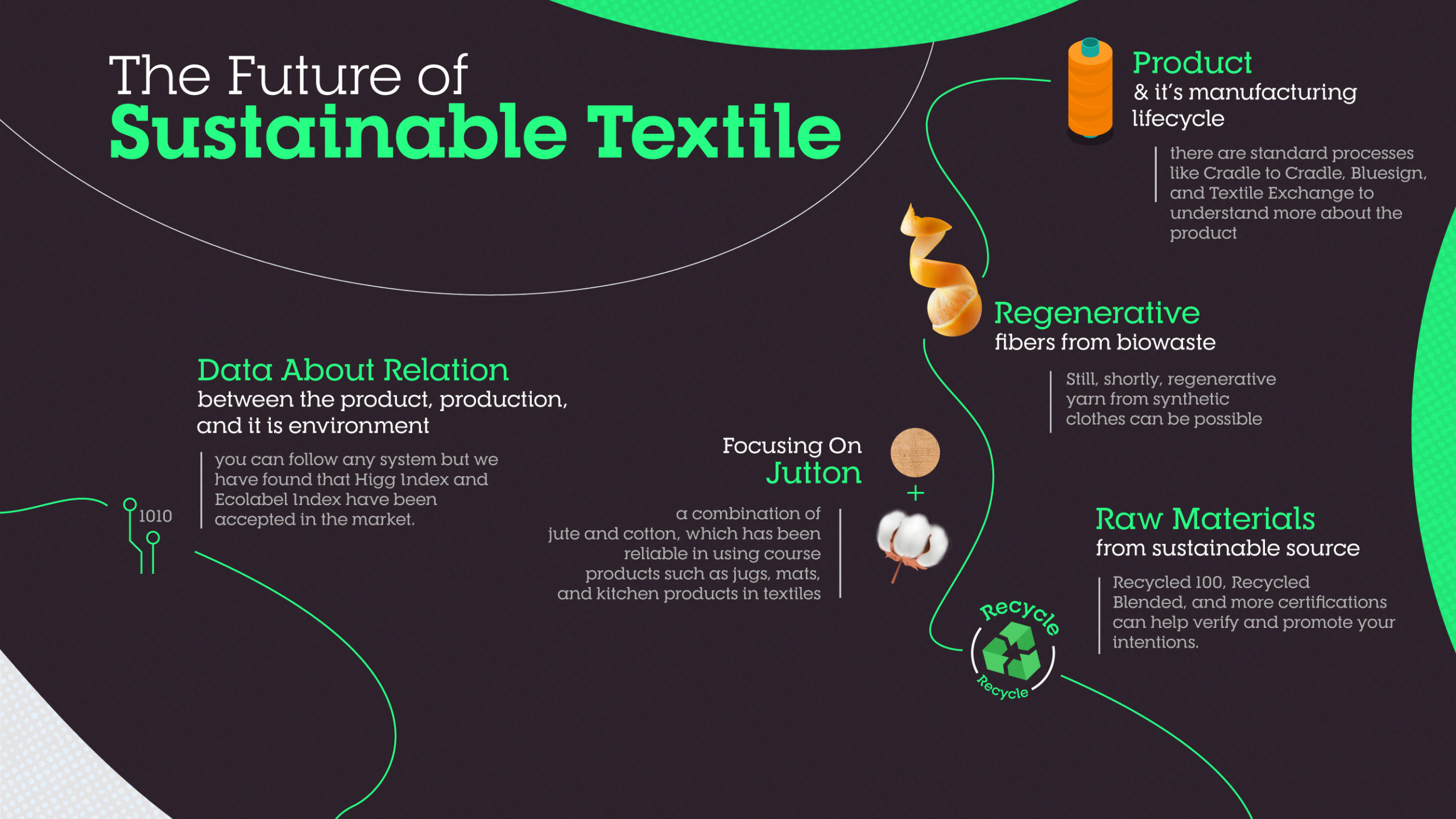 Ethical and traceability sourcing creates incredible social impact in the supply chain:
The supply chain is significant not only for recycled and sustainable materials, but how and where they are produced ultimately creates the most powerful social impact. The continual sourcing opposes one-time donations towards poorer earners like farmers worldwide but helps them in their daily livelihood. That means that the raw materials, such as the fibers you buy, should be ethically sourced. Many companies, such as the Better Cotton Initiative with Physical Traceability Certification, Cotton Made in Africa, and Fair Trade, ensure robust ethical sourcing platforms for cotton fibers worldwide. However, there are more such as Responsible Wool Standard, Sourcemap, and Zque, for different textile-related industries. Although packaging might not be under focus, businesses must regulate ethical sourcing of packaging materials and the Forest Steward Council and powerfully connect with the Rainforest Alliance.
Product and its manufacturing lifecycle measurement must be required to understand overall risks:
Businesses must measure textile products and their traceability with shrewdness and scientific apparatus. It is because there are multiple types and numbers of components in a textile product, such as fiber, filament, chemicals, auxiliaries, dyes, processing, finishing, trims, accessories, and packaging, which may contain hundreds of ingredients and properties. Although there are many ways to trace them, transparency is more complicated than it sounds. Hence there are standard processes like Cradle to Cradle, Bluesign, and Textile Exchange to understand more about the product and what is in it. But these are not all, and many can help you with your focus.
Data about the relationships between the product, production, and it is environment would open ways to solve the environmental issues in the textile sector:
If we do not understand nor measure our impact on our ecosystem from our operations, we can decide our next steps. Although you can follow any system, we have found that Higg Index and Ecolabel Index have been accepted in the market.
Although this is not the only future as no one cannot forecast the future accurately. Hence, we must always keep insights from proper authority all the time.
We must be accountable; it is always great to have an over watch with specific expertise as we take the initiative.